Guangdong KIA Semiconductor Technology Co., Ltd. (KIA Semiconductor) was established in 2005. From the very beginning of its establishment, the company has clearly established a foothold in the local market, with R&D as the forerunner, understanding customer needs, understanding market needs, using innovative integrated circuit design solutions and international synchronization R&D technology, combined with the characteristics of the Chinese market, has introduced BIPOLAR, CMOS, MOSFET and other power-related products to the market. The product's stability, high cost performance, good service, and a rigorous attitude in technical and market communication with customers, Charging piles, drones, LCD, HID, UPS, electric vehicles, inverters, energy-saving lamps and other fields are well recognized by customers.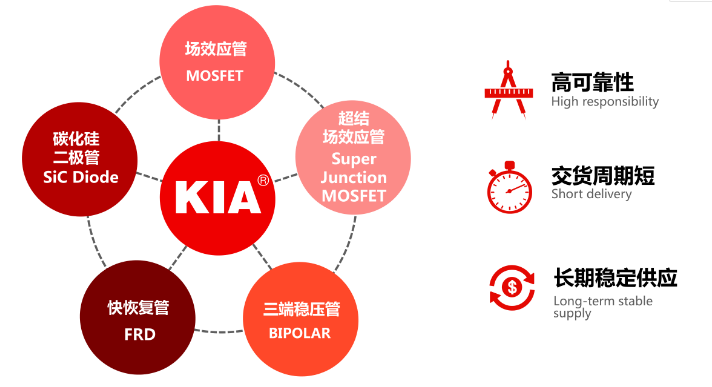 In 2007, KIA had a professional multinational cooperative design and R&D team and 8-inch VD-MOS wafer fab in Pohang University of Technology (NINT) in South Korea. Since then, KIA has entered a new era of development of international cooperation and division of labor integrating product development and distribution.
Delivering on promises with quality is the core foundation of KIA's development. In the expansion of the field of professional MOSFET devices, KIA has taken the lead in successfully developing the latest MOSFET series products. The RDS (ON) of the product is greatly reduced, and it has breakthrough performance in the direction of high temperature reliability and stability-the relevant test data standards of the product are equivalent to similar products in Europe and the United States, improving the conversion efficiency of the product for customers, and taking the lead in this type of product Launched in the Chinese market, leading high-end power semiconductor technology to seize the main body of high-end services.

Using innovation to achieve breakthroughs is the source of KIA's continuous advancement. Using innovative integrated circuit design and international synchronous R&D technology, KIA combined with the development direction of the Chinese market and launched BIPOLAR, CMOS, MOSFET and other power-related products to the market. The product has strong stability, high cost performance, and relying on in-depth exploration of customers and high-end technology, rigorous research and development, currently in charging piles, drones, electric vehicles, mobile digital, automotive consumer, LCD, HID, LED, switch Power supplies, inverters, energy-saving lamps and other fields have strategic advantages. KIA is constantly shortening and changing the distance and way of technological life between China and the world.
As a leader in the field of MOSFET devices, KIA is constantly being molded into an international high-tech brand. Introducing the best technology products to the Chinese market and pushing the best Chinese technology to the world is KIA's business philosophy of "joining hands with customers, innovating designs, improving together, and serving the market". As one of the top 100 national high-tech enterprises in Shenzhen, KIA will be confident to welcome the new competition and cooperation in the high-tech field in the future and realize the new development goals of the enterprise.